Adverse Analytical Finding (AAF) and Atypical Findings (ATF) records are automatically created by the system when an adverse/atypical result is matched to a Doping Control Form.
The AAF/ATF must be confirmed by the applicable Results Management Authority.
AAFs can have the following statuses on ADAMS:
Created
in progress
Entry complete -No ADRV
Entry complete - ADRV
When you want to close a case that involves an AAF, please select the relevant status and upload the relevant decision in Section "AAF" by following these steps:
On the AAF page, go to edit at the top right, press edit. This will allow you to update the status and select one of the following options

Created
in progress
Entry complete - No ADRV, applicable in cases where a the Athlete has a TUE to cover the AAF in question or it is no case to answer.
Entry complete – ADRV

Include a status reason. Sub Status…
Click save at the top right of the screen.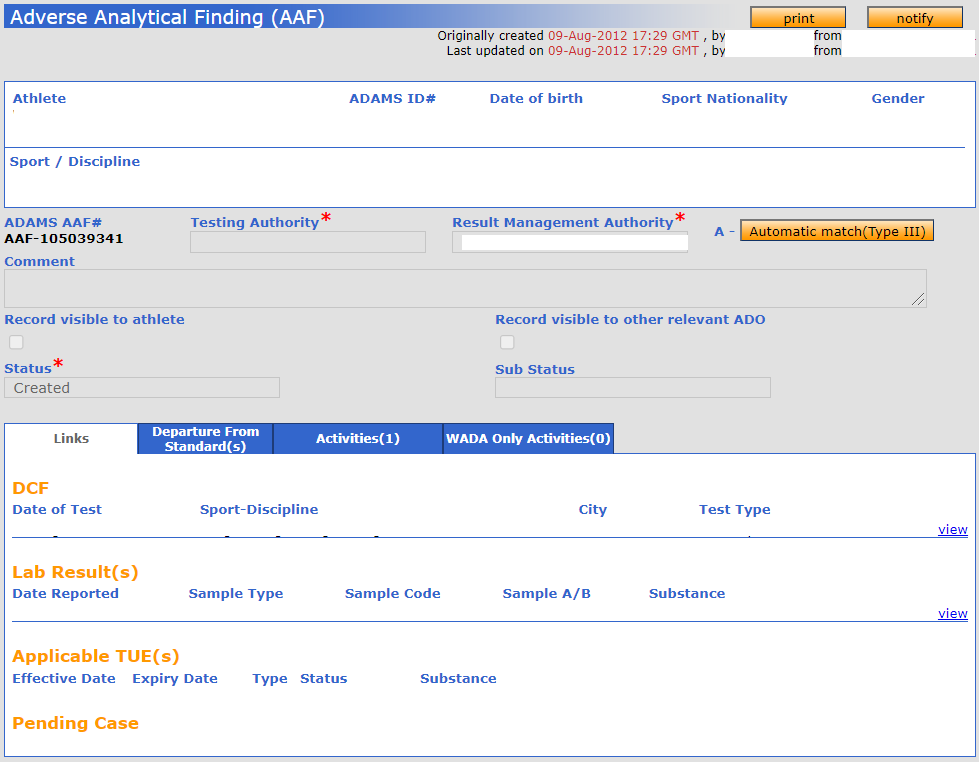 ATFs have the following statuses:
Created
in progress
Complete - Investigation Negative
Complete - Investigation AAF
Cancelled


Please refer to the applicable Technical documents for more guidance on specific cases.
The sub- statuses "TUE and "DFS" are also available for both records.
When there is a case (AAF or non-analytical case), in order to enter all the results management information as required in the Code and the International Standard for Results management, you need to create a Pending Case.