Login as an accredited lab user
Within the Hematological Passport Lab Results section, click the New bp lab result button.

Complete the fields:

Sample Code
Enter a Lab reference number and Mission Order number if relevant (this could be the Client's Batch ID#).
Sample collection date
Type of Blood Analyzer
Country, region and city for the sample collection.
Date and Time Sample received by the Lab, the Date Results reported and the Analysis Date & time.
Testing Authority, Sample Collection Authority and Result Management Authority
Test type – In or Out of Competition and the Gender. If In-Competition is selected, a text box for the Competition Name appears.
Sport/discipline. This field is populated by searching for the relevant sport/discipline from the database. Enter at least three letters from the desired sport name. Click on the magnifying glass icon to search. Select your Sport/Discipline from the pop-up window.
Gender
Select the analysis HBOCs if relevant and add detail within the Analysis Details/Explanation/Opinion field
Complete the measure value for each Biological Parameter (use Add if necessary)

Change the lab result status:


Not submitted: This means that the result can be saved in ADAMS, but is not yet available to the Testing Authority.
Submitted: Once all analyses are complete and ready to be submitted to the Testing Authority. All mandatory fields need to be filled out.
Not Analyzed: the sample was not analyzed.
Cancelled: nothing can be changed

Save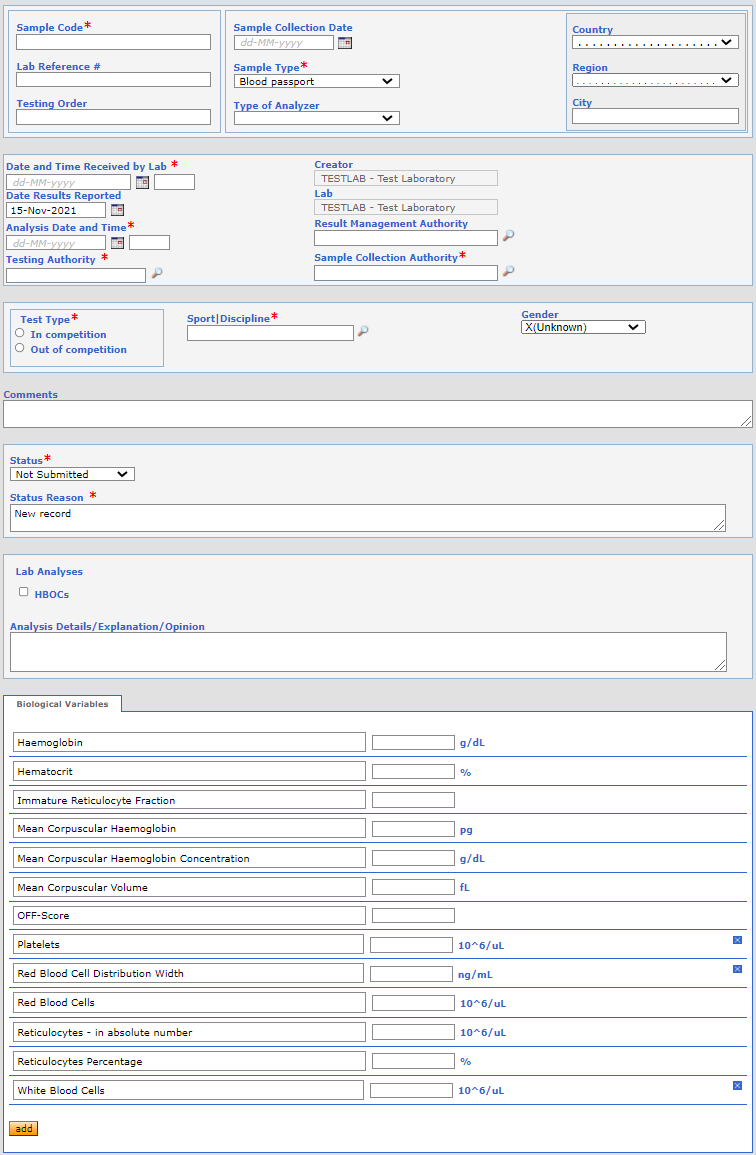 Note 1: When you save a Lab result for the first time, the Activities tab will be enabled. You can attach any files or documents via the Activities tab.
This Activities tab also tracks the creation of and amendment to each record in the system, so that by clicking on an Activity tab you can get an overview of the history of a specific lab result record. The Activity tab only stores one entry per day and it will reflect the last activity to a record for each day that there was activity to track.
Note 2: Use the Notify button to notify other ADAMS-users within or outside your Lab
Note 3: If desired, use the Print-button to create a hard copy of the BPLR record (page being displayed, related data in the database including data under the tabs). It is recommended to print in View-mode and not in the Edit-mode.